Adventure or Travelling is one such thing that most people are fervent about because of its un-ending thrill and excitement to explore something new every time. Life has an expiry date and the bizarre part is that you don't know when it will come. So why don't you live your dreams and experience everything that you wish for? Regardless of what you are, whether an experienced travel blogger or just a beginner who wants to experience the enthralling adventures in India, there are plenty of activities and sports that you can try to take that first step. Instigate your adrenaline rush but also transcend one to the world of fearlessness.
The difference between the desire and the passion is huge. There is something that you want to do and then there is something that you will think day and night about. Because if the thing that you love to do is not the first thing that come into your mind when you wake up and is not the last one before you go to bed, then sorry it is not what passion is. There are very few people in the world who understand the meaning of being passionate and who chase it in any way possible.
Multiply the fun and thrill doing the right thing at the right time and at the right destinations. Let's explore few adventure sports that you can take with whatever you have to follow your dreams -
RIVER RAFTING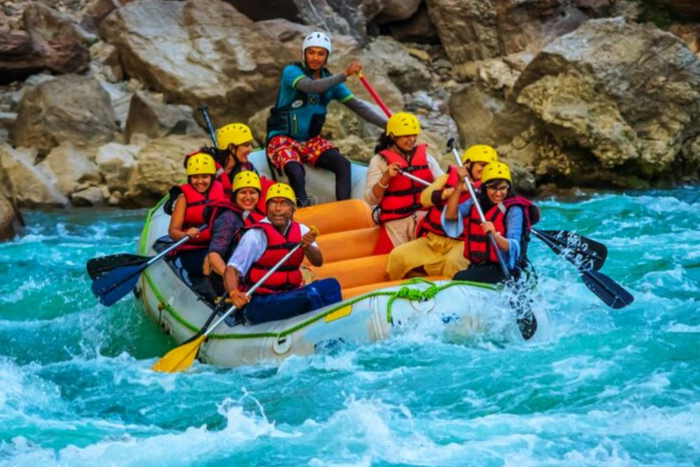 Get a captivating sight of the green landscapes, mountains, and the turbulent river while you are swirling around in it. River Rafting is an exciting and the most common adventure sport yet it fascinates everyone from novice to adventure expert. Rafting is more than just an adventure sport as it provides you the most enthralling experience of lifetime. When your raft race through the wild water, it brings the maddening rush to your body, mind, and soul. To go ahead of your boring routine, welcome the awesomeness of the hardcore adventure activity with open arms where you will find the adventure junkies just like you. You can also try out the Camping and Cliff Jumping along with River Rafting for a full thrilling day!!
Best experience at: Rishikesh, Manali, Ladakh, Colad, Coorg, and Brahmaputra.
Average Cost Per Person: Rs. 500-1000
BUNGEE JUMPING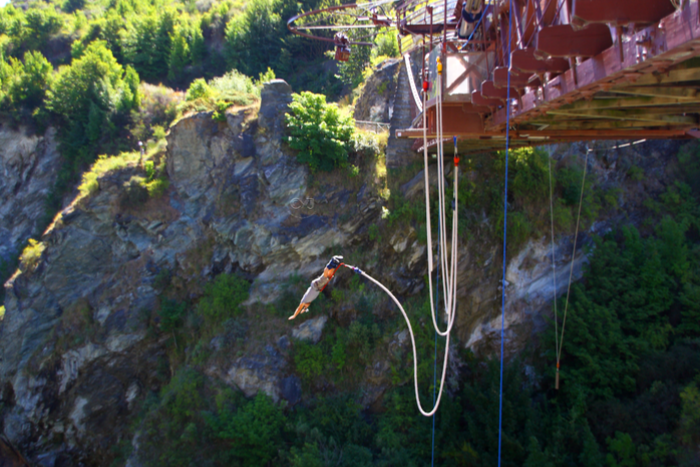 Provoke your inner adventure freak and try out Bungee Jumping- the one adventure sport that is both fun and danger at the same time and that will make you go crazy. The thought of jumping off the cliff with a rope tied around your ankle will definitely give you the chills before the attempt. Imagine that you go straight down and swinging in the air for a while. Scared? Well, don't be. Though Bungee Jumping is the scariest adventure activity but there is no way that it can go wrong. The professional trainers will take care of all the safety measures to make your trip adventurous and memorable. Also, it is not advised for the chicken-hearted people because obviously knowing the height from where you are going to fall off needs a great courage and passion. Get ready to experience the world upside down at 360 degrees literally!!
Best experience at: Rishikesh, Delhi, Goa, Bengaluru, and Lonavala
Average Cost Per Person: Rs. 2500-3500
PARAGLIDING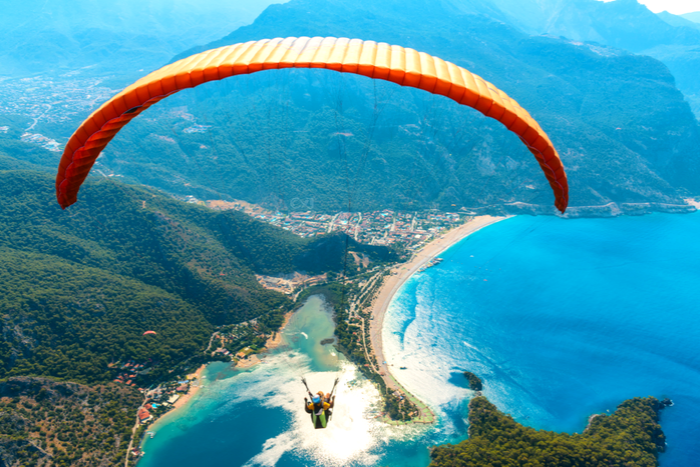 Hey, how many of you dreamt about flying in your childhood? I guess almost everyone and it's the time to make it true!!! For a couple of minutes though. It is an exciting and fun activity that will thrill you in unexpected ways. Paragliding is one of the popular adventure activities that gets you flying up above in the sky and it is something that you need to try at least once. In Paragliding, a free-flying aircraft becomes your wings and take you far away from the Earth offering an incredible opportunity to glide above the verdant mountains and behold sites like never before. If you are one of those who loves to go beyond the limits, ditch the simple travel tour and make it an adventurous one. See you in the blue skies where you fly like an Eagle as you go for the Paragliding adventure!!
Best experience at: Bir, Manali, Kamshet, Goa, Darjeeling, and Bangalore.
Average Cost Per Person: Rs. 1000- 1200
SCUBA DIVING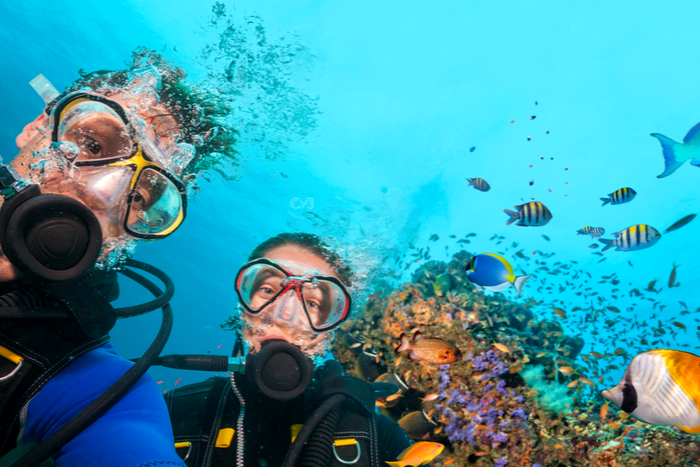 What can be more thrilling and exciting than capturing the sight of aquatic life under deep water? Imagine going swimming with the marine animals such as Scorpion Fish, Octopus, Angler Fish, Sharks, and Coral reefs all by yourself. The excitement of discovering various new species underwater is both thrilling and challenging. Scuba Diving is that popular adventure sport that requires simple equipment like Diving mask, fins, and a breathing tube for a successful diving. The best part of this activity is that you don't need to be a trained swimmer, all you have to take care is of your oxygen supply and rest will be taken care of by your trainer. So, go on and explore the hidden underwater beauty like a fish in the ocean!!
Best experience at: Andaman, Lakshadweep, Goa, Pondicherry, and Karnataka.
Average Cost Per Person: Rs. 5000-8000
TREKKING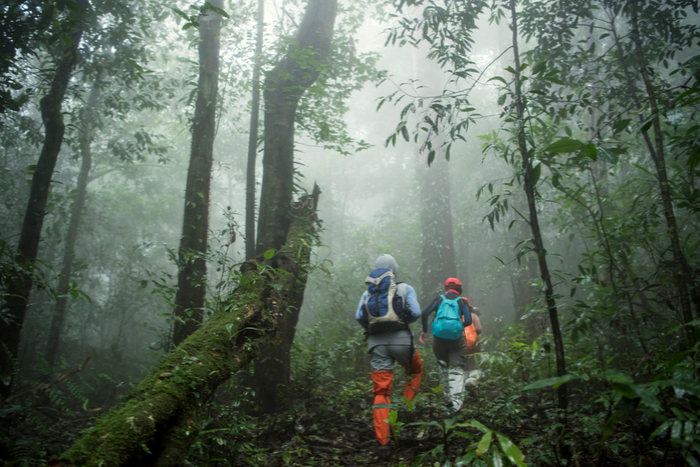 Is it possible in any way that you forget Trekking when you talk about adventure? A big NO. Trekking is the most common and most thrilling practice of all time that one can have. Pushing your limits for the unexpected and unpredictable things as you move forward along the hills is a bit terrifying but a pleasant experience. If you will observe closely about the adventurers, from all around the world, a lot of them prefer Trekking as the foremost adventure activity to try as they get to explore the unspoiled nature and wilderness. By walking around the trails, you will encounter the hidden beauty of the nature. Also, the experience of going on a high altitude to pump your adrenaline will teach you numerous things that will help you in life for good!!
Best experience at: Ladakh and mostly in the Himalayas
Average Cost Per Person: Rs. 4500-10000 (based on the number of days)
SKIING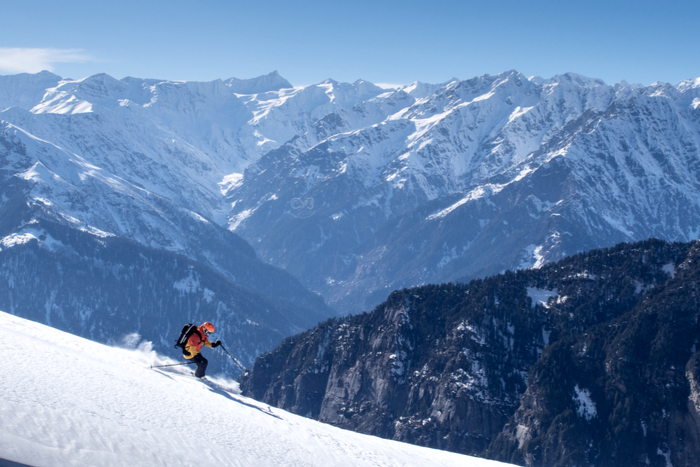 Who says you can't go adventurous in chilly weather? Skiing is one such winter adventure sport in India that has been and is still popular among the adventure enthusiasts. We all love snow and the best way to get acquainted with the snow-covered hills is to just glide down the ski slope experiencing the beautiful views of the valley. The monolith slopes of skiing go massive 3049 meters in some places that provides a breathtaking tour of the mountains. Undoubtedly, Skiing is the must-try adventure sport!!
Best experience at: Gulmarg, Manali, Auli, and Sikkim
Average Cost Per Person: Rs. 500-1200
SKY DIVING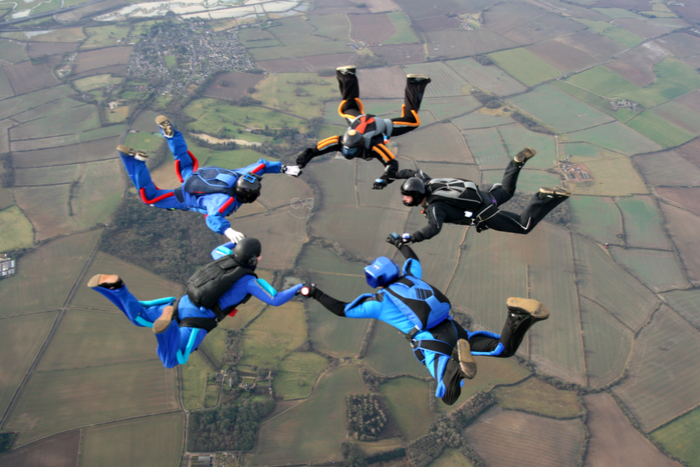 Another spine-chilling adventure sport is the Sky Diving where you have to jump from an aircraft like from the height of 10,000 ft without a single harness attached. Isn't it exciting and scary? It is not as scary as it seems to be yet it needs immense amount of guts to actually do it. You just have to fall freely and after few minutes just pull the parachute for a safe landing. Sky Diving will fulfill your dream of flying like a free bird in the vast blue sky. Providing the opportunity to de-stress yourself to just enjoy the adrenaline rush in the moment, Sky Diving will only give you the unforgettable experience!!
Best experience at: Mysore, Pondicherry, Deesa, and Dhana
Average Cost Per Person: Rs. 18000-27000 (based on the type of fall)
HOT AIR BALLOONING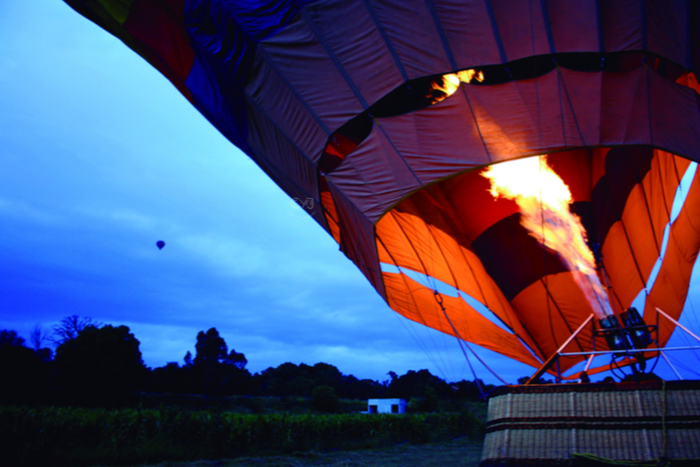 Get the bird's eye view of the unknown and breathtaking places with Hot Air Ballooning in India. It is an adventure sport that is quite feasible and exciting for those who want to experience the light adventure. Not at all scary, Hot Air Ballooning is a simple sport that attracts the tourists in a large number. The excitement of flying over the green landscapes, forts and palaces of Rajasthan, and other captivating sights and capturing the views for later binge-watching is great. Also, go for the Balloon ride in the mornings and evenings when the wind is favorable!!
Best experience at: Jaipur, Pushkar, Lonavala, and Hampi
Average Cost Per Person: Rs. 7500- 12000
FLY BOARDING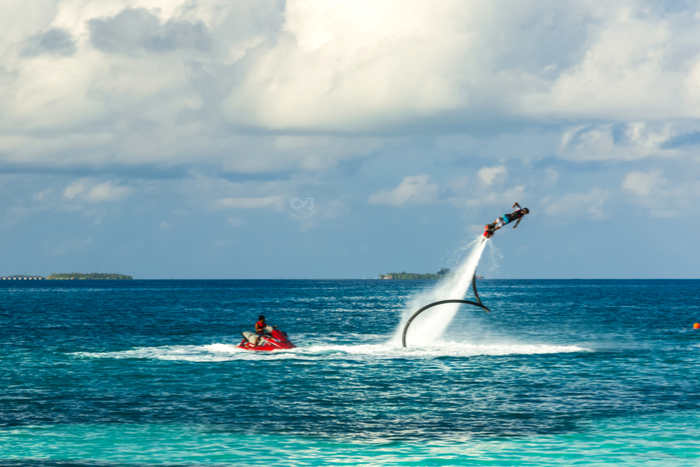 Goa is much more than just the exotic beaches. Famous for hardcore parties, delicious food, and what not, Goa is the only place in India to provide the Water Sports. Remember the adventure sport that "Hrithik Roshan did in the movie Bang Bang"- that's what Flyboarding is and that's how people know about in India. And do you want to try it also? Guess what, you can recreate the whole scene on your own without burning the hole in your pocket in Goa. Flyboarding is recently made available on Baina Beach, Goa which allows you to swirl, flip, and even to take a deep dive in the water experiencing the amazing thrill!!
Best experience at: Goa
Average Cost Per Person: Rs. 3000
So, if you are feeling low on your adrenaline even a little, plan a trip with your favorite mates or solo for that matter to ditch the monotony of daily routine. Choose one of these terrific adventure sports and venture into the wild to ignite your wanderlust!!!!