Backpacking is an interesting concept which might fascinate a lot of people. If we talk internationally, it is quite common there but in India people are still not open about the Backpacking as much as they should. It is a combination of adventure and fun that people experience on their trip and believe it or not you don't know what it feels like. Doing random things, going fearlessly alone, talking to strangers, trying new adventures, and what not, all this will make you confident for life. If you are doubtful about being the traveler on road, don't be, try this for sure and you will discover what you've been missing for so long!!!
Travelling is an expression of individuality and the more you spend time with yourself, the more you will understand your choices, beliefs, and needs. Backpacking takes you closer to experience it all. So, if you are a little convinced about taking the backpacking trip, continue reading this blog to know where you should step in for the most amazing time.
Traveling to different-different destinations is fun, but some of the places carve a deep and lasting impression on a traveler that he remembers it for life. India is one such place having a fusion of different cultures and traditions. And in the whole world, there is no country like India that provides so much of contrasting sounds, colors, and contradictions at once. India can be called as a backpacker's haven as it holds plenty of beautiful destinations. Be it, mountains, beaches, plains, or deserts, India has everything for everyone and for every season. For an unexpected journey, a trip across India is the best that you can explore.
If you're an ardent backpacker, it is quite evident that more than one of these places will make to your bucket list right away. Let's see which one and why!
VARKALA - BEACH DESTINATION OF KERELA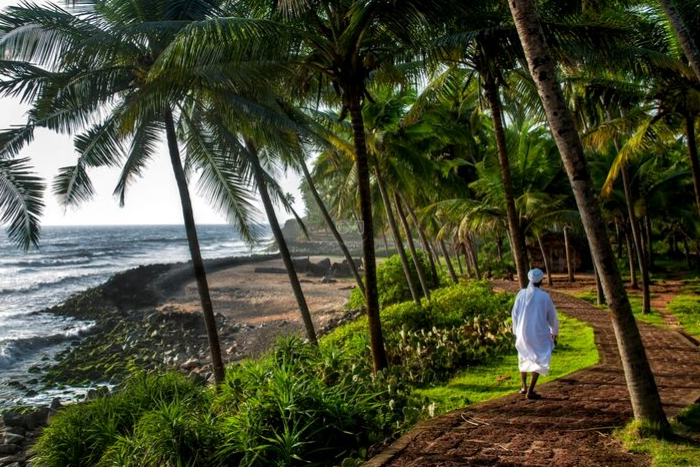 One of the enchanting destinations that you can consider for your backpacking tour is Varkala. Located about 50 kilometers from the capital city of Kerela, Varkala is a beautiful getaway for the travelers on road offering a total bliss. Famous for being a beach destination, this place has reserved its place in the top 10 seasonal beaches by Discovery Channel. The soothing surroundings, clear water, and refreshing vibes of Varkala will make you go bananas offering a relaxing spot with a laidback atmosphere. The beaches here are famous for their adventure activities like swimming, sunbathing, sightseeing, parasailing and surfing. In addition to all this adventure, you can also visit some pilgrimage sites like Janardana Swami Temple, Sarkara Devi Temple, Sivagiri Mutt, and Kaduvayil Juma Masjid. Also, the massage centers, spa, and ayurvedic treatments will help you revitalize yourself naturally.
Best Time to Visit- October to March
HAMPI - DISCOVER THE HISTORY OF KARNATAKA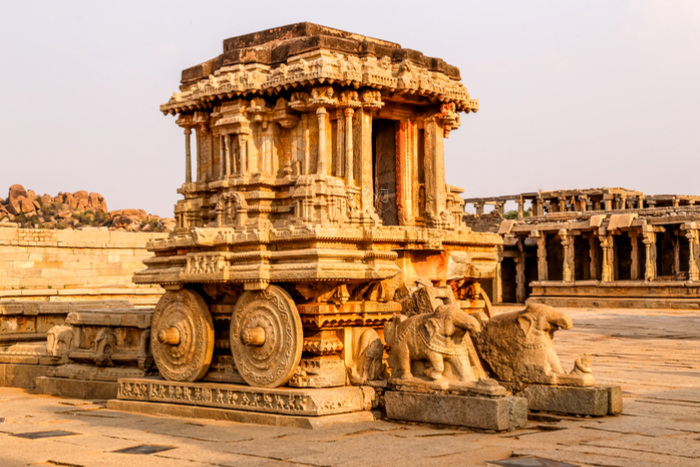 Are you a history buff? Great, if you want to explore the historical past of India. One of the famous UNESCO World Heritage Site- Hampi is an astonishing religious place located in Karnataka. Famous for its glorious architecture, historical mysteries, and beautiful sculptures, Hampi entice the adventurers to explore and decipher the incredibility of the past. This place constitutes a number of monuments that tells about the story of the previous rulers and their dazzling lifestyle. The beautiful wonders, magical atmosphere, and the affordable living attracts many tourists to this authentic place every year. Visit the amazing Chandramauleshwara temple, Hazara Rama temple, Krishna temple, Vittala Temple, Hemkuta group of temples and Malyavanta Raghunathswamy temple to add some popular places to your bucket list.
Best Time to Visit- October to February
GOKARNA - TEMPLE TOWN OF KARNATAKA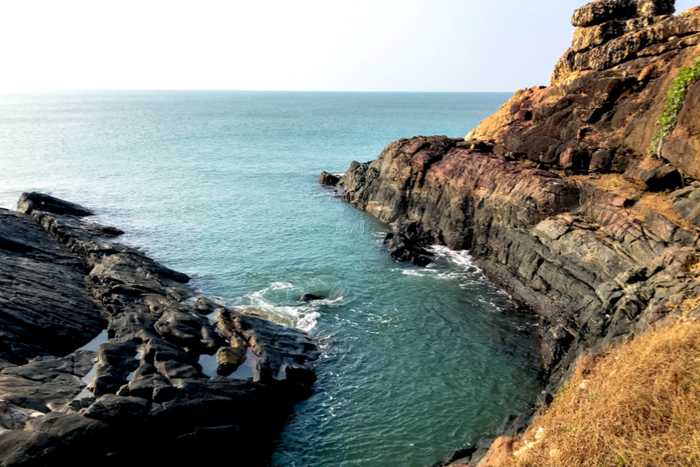 Immerse yourself in the tranquility and holy ambience of Gokarna in Karnataka. The temple town of Karnataka having several religious places that offers the positive holy vibes to the travelers is the best Backpacking destination in India. Feel refreshed as you witness the azure waves of the Arabian Sea at the beach and relax to the core. Formerly, the main attraction at Gokarna were the religious temples which attracts the tourists in a large number but lately when it gained the reputation for providing an exclusive beach experience, it becomes the great site for backpacking and thus receives a flock of youngsters every now and then. Also, the affordable accommodations, comfy shacks, and the mound of waves makes your vacation pleasant.
Best Time to Visit- October to March
SPITI VALLEY - LITTLE TIBET IN HIMACHAL PRADESH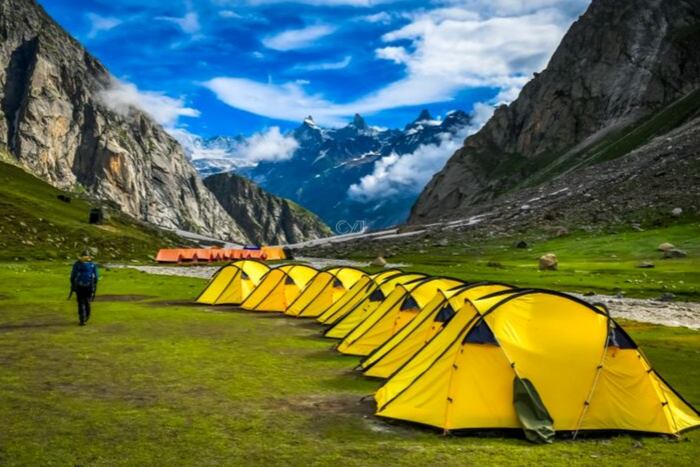 The mountains never fall out of trend and out of the wish list whenever it comes to travel. Away from the pollution and crowded roads, the hill station provides you the most relaxing and refreshing time. Spiti Valley in Himachal is one such place where you will find solace ditching the everyday routine life. The perfect amalgamation of snow-clad mountains and roaring river streams, Spiti Valley is the perfect backpacking destination for those who are looking for adventure and peace at the same time. The presence of Tabo and Ki monasteries made it famous as the Little Tibet. So, pack your bags and take your friends to the backpacking trip in Spiti Valley. Also, don't forget to try the Trekking which might be the stone-turning decision for you.
Best Time to Visit: March to June
SHILLONG - ABODE OF CLOUDS IN MEGHALYA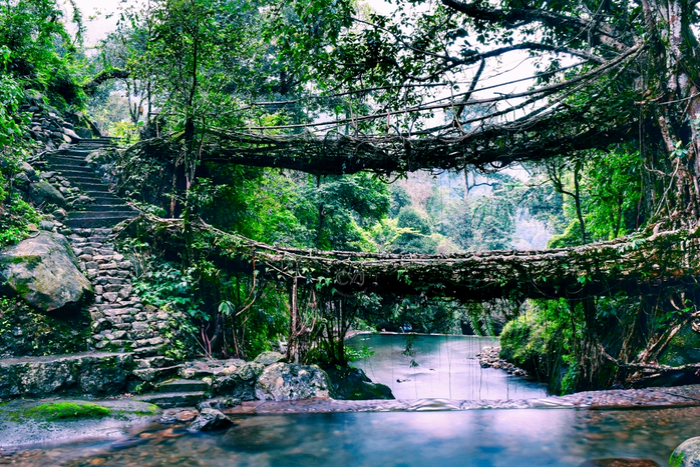 Haven't decided the place for your backpacking trip yet? Well, that's good, because you must choose Shillong to witness the unexplored gems of the northeast. Famous for receiving the highest rainfall, it is your place if you love dancing in rain and admire the cool breeze that goes by each time you step out of your room. If you are not an adventure junkie, Shillong is perfect for you as it offers the soothing environs all around relaxing your mind and soul from the stress. Shillong is also called as the 'Scotland of East' due to its reverberating beauty and attractive landscapes. Also, explore the Lady Hydari Park, Air Force Museum, Botanical Museum, State Museum, Umiam Lake and Wards Lake in Shillong for a memorable trip.
Best Time to Visit: March to June
BUNDI - TASTE THE HERITAGE IN RAJASTHAN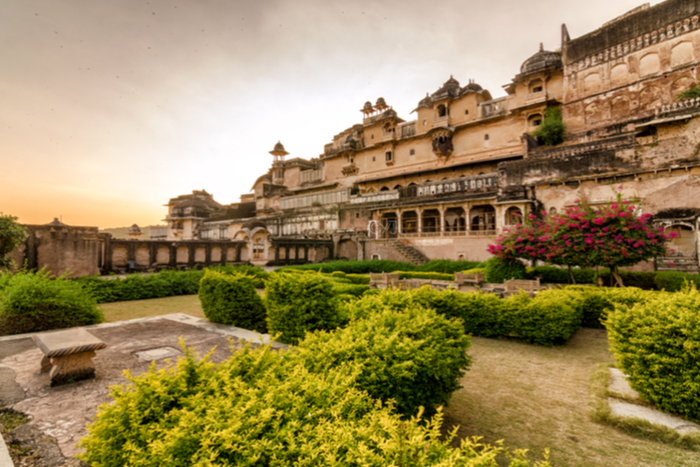 When it comes to explore Rajasthan, there is nothing better than a foot stroll in the small cities. Roaming around the crowded streets of a small town will make you take a deep dig in the culture of Rajasthan. To find this realism, visit Bundi in Rajasthan. Fortified with magnificent forts, vibrantly colored houses, and magnanimous havelis, Bundi is a good choice for the Backpackers to live the Rajasthani life. The secluded town is far away from the pollution and offers you a refreshing getaway vibe. Try the authentic dishes here that are once was the major ones in the menu of Rajasthani cuisines made for the Maharajas.
Best Time to Visit: October to April
KANYAKUMARI - COASTAL TOWN IN TAMILNADU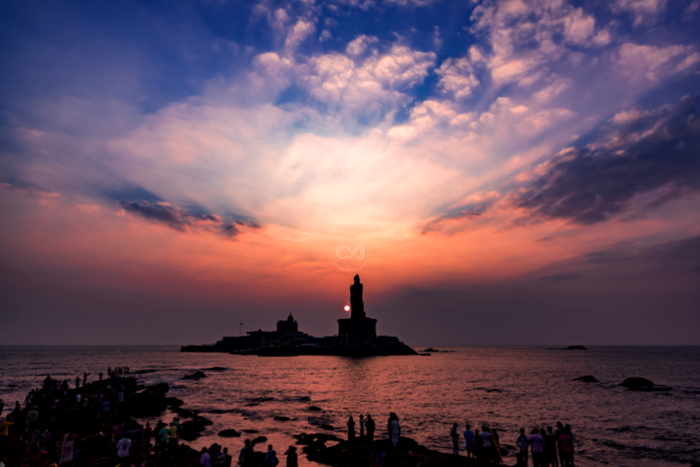 Overlooking the union of three major water bodies- Bay of Bengal, Arabian Sea, and the Indian Ocean, Kanyakumari holds a special place in the heart of South India. With so much to see, learn, and do, Kanyakumari is the best destination for the Backpackers. The place offers so much for a traveler to explore such as scenic beaches, churches, temples, waterfalls, and the museums. If you are a nature lover, you will fall in love with Kanyakumari. Being all about the beautiful vistas, picture perfect sunsets, and romantic moon lights, Kanyakumari provides endless experiences to a traveler. Also, temples like Devi Kanya Kumari Temple, Bhagavathy Amman Temple, Thanumalayan Temple, and Thiruvalluvar statue, it is a popular pilgrimage destination attracting devotees from all over India.
Best Time to Visit: October to February
DZUKOU VALLEY - VALLEY OF FLOWERS IN NORTHEAST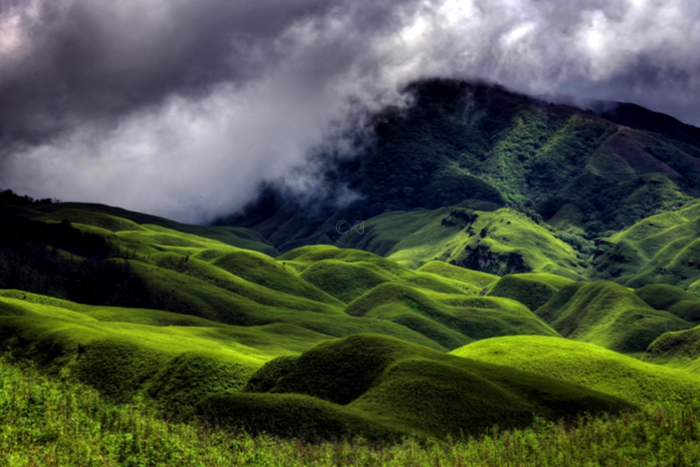 Nestled at an altitude of 2450 meters, Dzukou Valley lies on the border of Manipur and Nagaland and is the another quaint destination for the backpacking trip. Best place for the trekkers and nature lovers, the Dzukou Valley has an unspoiled beauty that refreshes everyone who visits there. The feeling of going across the water streams is soothing and thereby calm your senses in the best way possible. Dzukou attains its name as the "Valley of Flowers" as its landscape features scenic plains abundant with a variety of colourful flowers, especially lilies and rhododendrons. Take the beautiful path to Japfu range and the camp at peak to continue and witness the magical surroundings all by yourself.
Best Time to Visit: June to September
VARANASI - SPIRITUAL CAPITAL OF INDIA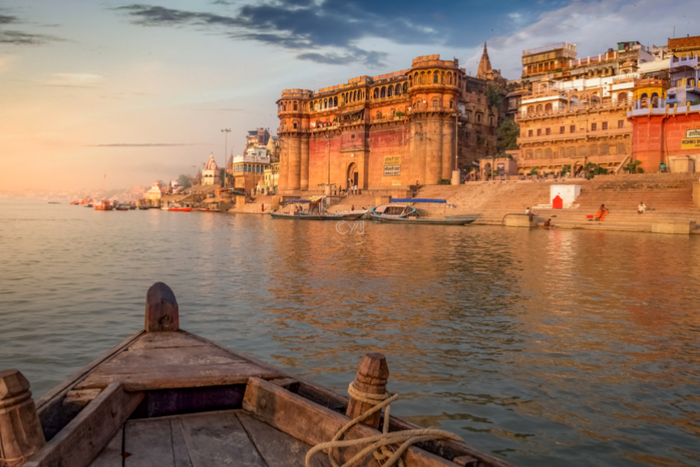 In the list of the best pilgrimage sites, Varanasi tops the list being the oldest cities in India. Located on the banks of holy River Ganga, Varanasi is a home to various temples, religious ghats, and old havelis. The spectacular town witnesses the devotees in the largest number because of its spiritual significance. Varanasi is the definition of divinity for the religious visitors. Offering some of the most interesting experiences, Varanasi is an exciting stop for the backpackers. There is much to explore starting from the narrow streets, crowded temples, mouth-watering food, to the vibrant markets. Also, Ganga Aarti, Boat ride, and admiring the sunrise and sunset on the ghats, Varanasi never fails to astound you with excitement.
Best Time to Visit: November to February
Start planning your backpacking trip and choose one of these destinations to have a heart-warming experience!!!!!!!