With all the twists and turns, Life is a complete adventure that comes naturally to you no matter how hard you want to escape it. New challenges, new opportunities, and the responsibility of competing with your own self is what life teaches us to do. But let's put the adventure in another way that most of you take it as. By adventure, we think of speed, risks, thrill, and excitement that we get through certain activities in certain locations. Being adventurous is not everyone's cup of tea, but it doesn't mean that it is not acclimatized in a good way either.
Adventure Trips can be life-changing and soul-transforming for you. It's true that on a name of vacation; staying in a lavish place, sightseeing the mountains, or attending a concert for that matter is convenient and exciting. But don't you want to explore the vivacious side of the world? Adventure Trips are fun and can-do wonders for you that you didn't even expect. The craze for the Adventure Trips is emerging vividly amongst people; sometimes to feel good, sometimes to leave the work behind, and sometimes to take a break from never-ending responsibilities. Taking a break not only refreshes you mentally but provides you a great chance of exploring the world on your own.
Adventure Trips also make you extend your limits, to be fearless, and developing a sense of self-reflection. Because as much as the self confidence is important, it is important to have the feeling of self-accomplishment too. The fact of knowing that you have gone beyond your capabilities to achieve something that you can cherish for your life is satisfying. If there comes a point when you feel completely directionless and low, some alone time will help you in decision making with a fresh mind and you will take happy memories on your way back home.
Adventure Travel is like a therapy. Scientifically speaking, going on a break tends to reduce your stress level also. Undoubtedly, you would be great at cracking your business deals and making that one presentation to impress your boss, but all this comes with a great work pressure and stress. And this hectic schedule increases the risks of anxiety and depression. To get that all out and rejuvenating yourself is what you can least do for your mental health. Travel adventures also raise your tolerance for uncertainty. Like, who knows that it all will stick to as you planned to? Life is uncertain and so is your tour will be.
High peaks and mountains, fascinating and challenging rivers and getting close to wild animals, India is bestowed with some adventurous locations that are worth experiencing. And adventure doesn't always quote for the strenuous activities, it simply means that you go out with your friends, take a simple smooth activity, and enjoy it with your heart out.
The land of diverse cultures, India is also known for its massive adventure opportunities. If you are thinking about taking up the adventure trip in India, a list of activities in some of the exotic locations will make you indulge into and tells you to when and where you can go chasing your passion in India. And one of the most amazing adventure activities that you can choose for both soothing and thrilling experience is Camping.
Camping in India not only instigate your adrenaline rush but also transcend you to the most peaceful settings of the world. Clearly, Camping is fun because it allows you to literally do nothing. Taking you close to nature; Camping rejuvenates you from within. Everything about Camping is attractive- be it secluded location, bonfire, exciting games, star gazing, and raw food. Also, irrespective of with whom you are heading for a campsite, it offers the excitement and enjoyment to all types of travelers. In a nutshell, going Camping in India has a lot of benefits for everyone out there such as:
It reduces Stress Levels
It makes you independent
Your Physical and Mental fitness improves
Provides you quality time with your friends
Camping offers Self-awareness
Lets you develop new skills
Makes you happier
Owing to the geographical variation of India, Camping is something that you can explore in mountains, valleys, deserts, and jungles. So, if you are an avid camper, check-out top 5 Camping Destinations in India for a lifetime experience.
RISHIKESH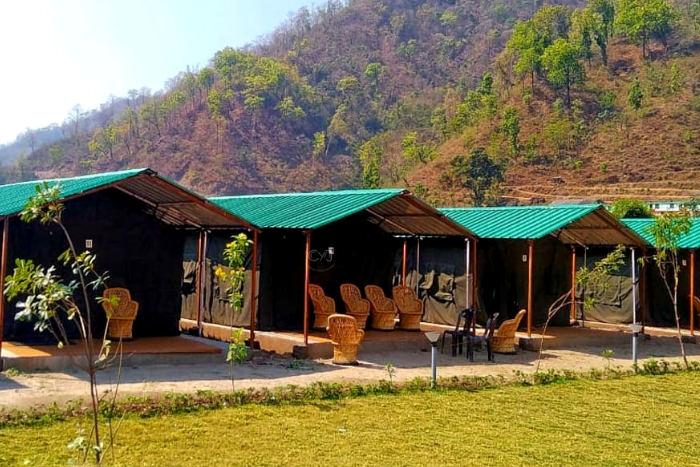 Located in the Dehradun district of Uttarakhand, Rishikesh is a holy town famed for its deep cultural and traditional heritage. Besides Ganga River and in the foothills of the Himalayas, Rishikesh provides a range of adventure activities to the travelers. The town is surrounded by the mesmerizing landscape offering peace and tranquility in abundance.
Camping in Rishikesh is something that everyone attracts to. Around 18 kilometers away from Rishikesh, Shivpuri is the place that provides endless camping options. The plethora of indoor and outdoor games, adventure activities like river rafting, cliff jumping, and trekking, bonfire, and star gazing will make your trip worth remembering. Also, the Campsite is fledged with all the basic amenities to make you comfortable.
Best Time to Visit: March- April, and September- November
KANATAL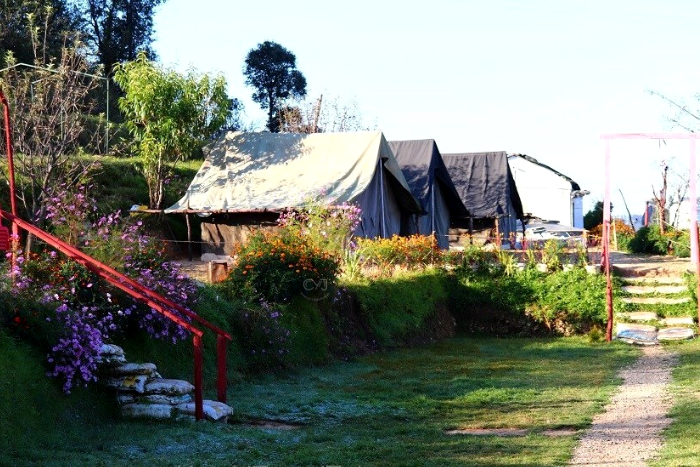 Kanatal is a quaint and calm place hidden in the dense forests of Uttarakhand. A few kilometers away from Mussoorie, it is a perfect Campsite where you can head to experience the thrill. For the adventure lovers, Camping in Kanatal is a gem to have. With peaceful surroundings, breathtaking views of mountains, and fresh air, this place is a hidden treasure trove of all things beautiful and blissful.
Spend your relaxing days in the untamed nature of Kanatal. The Camps in Kanatal are designed with luxury to make you feel like home yet away from the bustle. In the arms of shining sun and open sky, enjoy the star gazing at night with your loved one. Also, be sure to get more action with all the planned adventure activities, DJ, bonfire session, and some bonding over tea and music.
Best Time to Visit: March- September
JAISALMER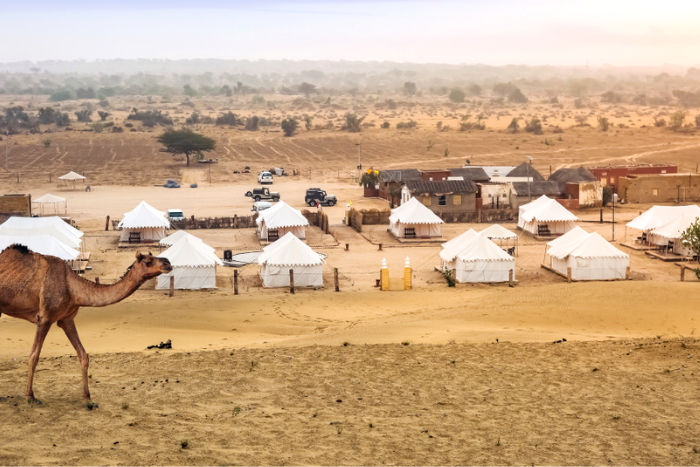 Amidst the Thar Desert, Jaisalmer is the city of amazing forts and temples that will catch your breath away in a jiff. Having both aesthetic appeal and rampant development, Jaisalmer is a city that will take you to the royal past firmly. Live your childhood hobby of having a Camel Ride in Jaisalmer. Camels are the oldest mode of transportation in Jaisalmer when you go for that Desert surfing.
The Desert Camping in Jaisalmer is full of adventure as you get to experience the endless sand dunes. The Desert Camping experience is something that one should try once in their lifetime. The feeling of waking up with the sun making a silhouette against the sand dunes is a scene to behold and cherish.
Best Time to Visit: November- March
MUNNAR
The enchanting hill station in Kerela- Munnar is a beautiful place to visit when you are in doubt for a spectacular vacation. Known for its vast tea plantations, Munnar is a combination of both plains and the hilly terrains. The green surroundings, soothing weather, and fresh air unlike the metropolitan cities makes this place a treat for well-being.
Camping in Munnar is something totally different and exciting. Filled with lots of fun activities, the Camping in Munnar will drive you crazy. So, if you are planning for a vacation, pack your bags and go to Munnar for a night of thrill and adventure.
Best Time to Visit: Throughout the Year
LADAKH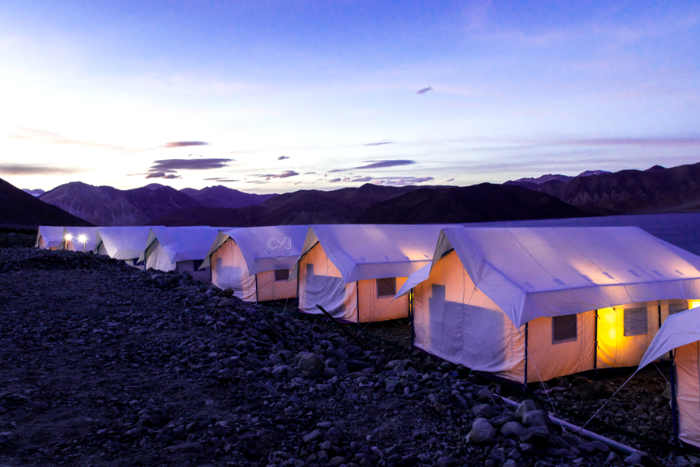 In the state of Jammu and Kashmir, Ladakh is a place that is ethereal. The Camping in Ladakh is the fantastic idea as you witness the most beautiful snow-capped mountains all around. On the banks of Pangong Lake, most of the people experience the Camping in Ladakh in the most surreal way. Pangong lake camps allow you to experience the best of this majestic glacial lake with its ever-changing crystal waters and its serene stillness. Also, Tsomoriri Lake, Sangla Valley and the banks of the Zanskar River are some of the best places in Ladakh to pitch a tent.
Best Time to Visit: May- October
Don't hesitate and don't wait for another year to take up the adventure to your soul. Enjoy the Camping that is good for your soul to de-stress you. And nothing else offers an opportunity to have a nice time with family and friends than camping, which, however, offers a soothing experience to your soul.