For the growth of a firm, it is quite important to have a nice environment so that the employees feel good and don't feel exhausted. To create happy surroundings for them, Corporate Team Outings should be hosted from time to time to get them away from the work stress. The culture of the corporate has undergone tremendous change and these days, whether it's a small firm or a big one, every company is organizing Corporate Offsite Tours for their employees. If there is a big company or a small one, there are several departments and people don't get to interact with each other as they are always busy doing their work, so in a way, due to these Corporate Offsites, they will be able to interact with one another. Due to work stress or deadlines, employees get stuck and not able to concentrate on their work and feel like they are living a monotonous job wherein they are coming to the office and just doing their work.
In order to make them feel special and to let them know that you care for them, you must host a Corporate Offsite Tour so that they can enjoy for a day or two being away from the work stress and they will also be away from the four walls of the office. Once, you will back from the tour, you will see a lot of changes in them like they will be able to concentrate more on the work and other things.
If you feel that you want to organize Corporate Offsite Tours then Goa is one of the best places to take your whole team. The reason why we are telling you this destination is full of thrill and adventure so opting for this place would be the best part. The place offers mesmerizing beaches, seafood, great nightlife, and unlimited fun to all the tourists. Not only this, but it also provides complete rejuvenation of body, mind, and soul by opting for Ayurveda and Yoga. Goa is also a home to offshore and onshore floating casinos where visitors can light up their vacations. For casino lovers, there are several casinos like Casino Pride, Casino Carnival, Chances Casino, Resort and Dunes, etc. which you must visit if traveling to Goa any time soon.
There are several resorts in Goa where you can stay back and these are well-known for their impeccable services.
CARAVELA BEACH RESORT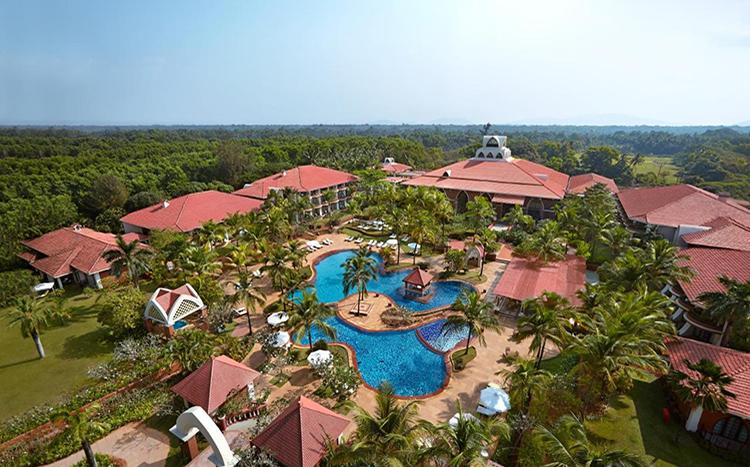 With the alluring views of the beach, pine trees at the backdrop, open garden spaces to relax, and a host of activities to try, Caravela Beach Resort in South Goa makes a great Corporate Offsite Venue. You can either come here for your Corporate Outings and get acquainted with the European Culture or you can avail the modern-age facilities and amenities during your Corporate Events in South Goa like Award Functions, Product Launches, and Outbound training & Team Building Sessions, Conventions, and more. The resort promises to facilitate complete Wi-Fi access with the latest equipment, like Laser Pointer, Microphone, Hand Mic & Collar Mic, Projector, Video Conferencing System, AV System, and so on. One of the sought-after resorts in Goa, Caravela Beach Resort is blessed with views and good for Corporate Offsite Tours. The resort has around 198 rooms that are bestowed with modern amenities to make your workcation amazing. The resort has two different conference halls, from which one can accommodate up to 150 PAX, and another consisting of 135 PAX. These conference halls combinedly can accommodate up to 340 PAX where you can take your Corporate Event, Conferences, Seminars, or Meetings to a notch higher. Also, there are a lot of activities that the resort offers like Golf, Swimming Pool, Spa, Yoga, Ayurvedic Center, Gym, Outdoor Jacuzzi, Live Band, Indoor Activities, Salon, Beach Activities, etc. for relaxing & rejuvenation.
HOLIDAY INN RESORT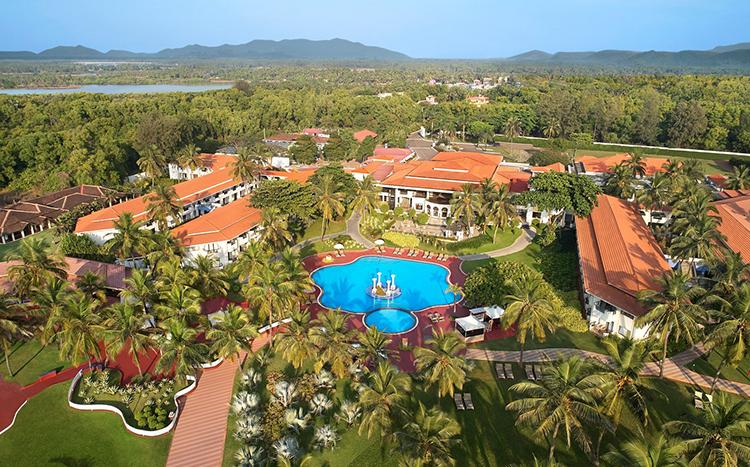 If you wish to execute your Corporate Team Outings in Goa, no resort is much better than the Holiday Inn Resort. Working night and day to provide every kind of comfort to the guests on their visit, the Holiday Inn Resort South Goa attains perfection in hospitality. For the Corporate Events in South Goa, the resort provides every possible modern amenity and facility. Whether it's the Flip Chart and Markers, Whiteboard, 35mm Slide Projector, Cable Modem, Digital Projector, LCD Projector, Lectern or Podium, Microphone, Modem Lines, Teleconferencing Equipment & Video Conferencing Equipment in All Meeting Rooms, the resort makes all these available for your Corporate Events in South Goa. The Indoor Ball Rooms can accommodate a minimum of 30 pax (boardroom) to a maximum of 750 pax (theatre). Also, the resort has indoor & outdoor facilities like Outdoor Pool, Cocktail Lounge, Gymnasium, Spa, Steam & Sauna, etc. for rejuvenation & relaxation.
RADISSON BLUE CAVELOSSIM BEACH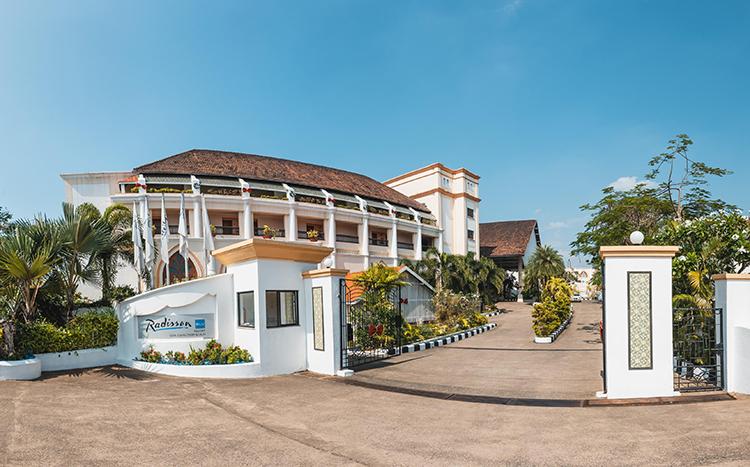 Yet another resort in Goa that is quite famous for Corporate Offsite Tour is Radisson Blue Cavelossim Beach. Located 45 minutes from Goa International Airport (GOI) and featuring brightly colored architecture and lush gardens, the Radisson Blu Resort Goa Cavelossim Beach creates an atmosphere that invites relaxation. Just a 10-minute walk from the Arabian Sea, our hotel makes your Cavelossim Beach getaway a breeze. There are so many accommodations where you can stay and have the most amazing time. All the rooms offer impeccable services. Talking about events and conferences, it has outdoor sitting for the same. The resort has 850 square meters of covered halls & 3,000 square meters of open lawn space, able to accommodate up to 750 guests. Other than these, the resort has an Executive boardroom with 10 seats & Mini-conference area for small gatherings & meetings.
THE ZURI WHITE SANDS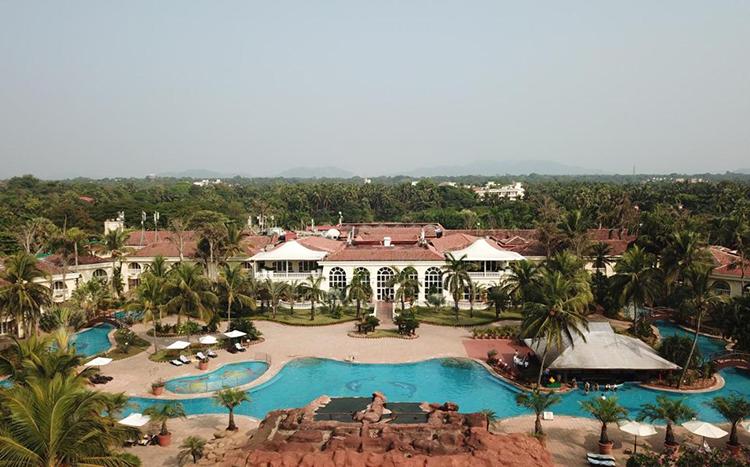 Very known for its unmatched corporate services, The Zuri White Sands is one of the sought-after destinations if someone is thinking about hosting Corporate Offsite Tours. The resort is flanked by beautiful beach views that are breathtaking. There are several luxury rooms that are well-equipped with all the modern amenities. There are a lot of meeting rooms in the resort and all of them are decked up with state-of-the-art facilities. It is also known as the best beach luxury resort in Goa, The Zuri White Sands is one of the perfect locations to host any corporate offsite event in Goa. It is famous and a lot of people come here from the corporate world also. If we talk about the accommodation, there are many rooms to make your stay comfortable and all the rooms are decked up with modern-day amenities. Apart from this, it also offers different conference halls & meeting rooms in Goa to make your event amazing. The resort has a fully equipped Business Centre and state-of-the-art banquet & conference halls, which make the Zuri the preferred choice when it comes to hotels for seminars and conferences in Goa. You can also choose the smaller meeting rooms or make use of private workstations that come equipped with every modern amenity you might require. Don't look any further to host a corporate offsite tour in Goa as you can surely book The Zuri White Sands Goa.
LA ALPHONSO MARINA RESORT & SPA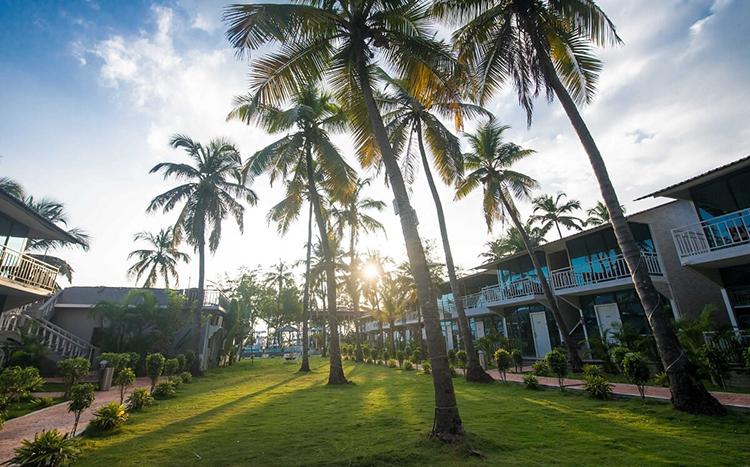 What makes people turn up to Goa for hosting corporate offsite tours is that it offers so many resorts with top-notch amenities. One such is La Alphonso Marina Resorts & Spa which is famous for its impeccable services. Nestled in the heart of Goa, La Alphonso is also one of the best-suited places for organizing Corporate Team Outing. There are enormous rooms that are befitted with all the modern-day comforts. And if talk about the conference halls then there is much space to host one. The hall is quite spacious and can accommodate large numbers of guests. To give the employees a healthier atmosphere, there are a lot of companies that are hosting corporate events and apart from this, they are also taking them somewhere away from the work stress. If you are thinking to host a corporate offsite tour then La Alphonso Marina Resorts & Spa is one of the best options as it offers you different corporate offsite venues too. If we talk about the resort, it features spacious and different types of conference rooms like oval-shaped rooms which can accommodate 10 people. Then there are theatre rooms which are best for large gatherings. Fewer than 40 people can be adjusted in U-shape rooms. Apart from this, there is also another room called square conference which can accommodate fewer than 25 people. There are a lot of amenities offered by the resort to make your event a success. All the rooms are befitted with amenities like AV/PA equipment, Microphone, and an Overhead projector among others to make your experience out of the world! Apart from this, you can also opt for team-building activities and get access to many facilities from CYJ. Why should your corporate team outing sound boring? Make it a great experience with us!
LA CABANA BEACH & RESORT SPA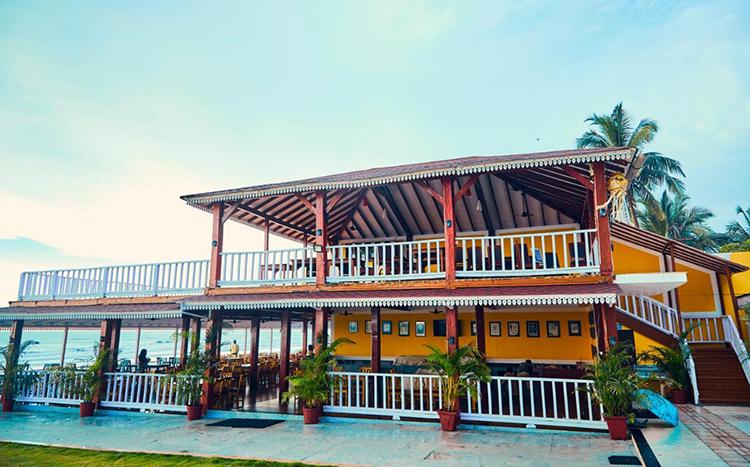 Last but not the least, La Cabana Beach & Resort Spa also tops the list of best resorts for Corporate Team Outings. A tranquil yet luxurious haven of natural beauty facing the Arabian Sea, La Cabana Beach & Spa is one of the best properties to host a corporate event. If you ever want to organize it, this resort can be the perfect spot. There are several rooms in the resort that offers picturesque views and are also bestowed with the best modern amenities to make your stay amazing. Apart from boasting spacious accommodation, the resort also offers conference and seminar facilities to the corporates. When we talk about the corporate sessions here, their services are designed to allow you to choose your event from conception to completion. It provides the finest meeting and conference services in the country with state-of-the-art equipment and facilities designed to meet the entire range of requirements from large meetings to executive off-sites or board meetings to make corporate team outings in Goa unforgettable. The facilities that it offers to the people coming up here are high-speed wireless internet and another state-of-the-art auto visual equipment. All these top-notch amenities will surely make your corporate offsite mice event a blissful experience....
So, what are you waiting for? Make your way to Goa and enjoy Corporate Offsite in Goa with CYJ as we are one of the best Corporate Offsite Event Planners in India. Be it Conference, Team Outing, Seminar, Outbound Training, Team Building, Corporate Offsites, etc. we try to give our best to the clients. Moreover, the other services like DJ, Stage, Buffet Meals, and Outdoor Cocktail Nights for the After Party are arranged at the venue. Also, we provide Team-Building Activities & Outbound Training. Plan your next Corporate Offsite Tours with us, and bond like never before with your colleagues & teammates!