If you like Snow to the core and always dreamt of having that spine-chilling moment of witnessing Snow Fall, Himachal Pradesh is just a place where you should go!!!
Destinations for all seasons and all reasons, Himachal Pradesh is the most significant region in the northwest of India which accumulates numerous beautiful Hill stations that are refreshing for both nature lovers and adventure freaks. Developed by the Britishers, Himachal is an amalgamation of scenic beauty, serene landscape, and adventure sports. Himachal has something for everyone whether its beautiful mountain towns, traditional hill stations, honeymoon worthy resorts and a plethora of outdoor adventures. The unbelievable beauty of the Himachal is made up of a series of formidable snowy peaks, the tall deodar trees, alpine fields and fruit orchards which is truly amazing. Himachal is also called the 'Snow Land of India' because of some breathtaking destinations which receive a high amount of snowfall during the winters. Wrapped with a good number of glaciers and rivers like Ravi, Chenab, Beas, Yamuna, and Sutlej, Himachal Pradesh has a pristine natural grandeur of its own.
So, if you are planning on visiting Himachal Pradesh, you will not be disappointed even for a bit. Go with your family, friends, or your life partner for a perfect time out away from the maddening crowd amidst the untamed and untouched nature.
Let's have a look at Top 11 destinations of Himachal Pradesh that are narrowed down below and are appropriate to help fuel your wanderlust!
BHUNTAR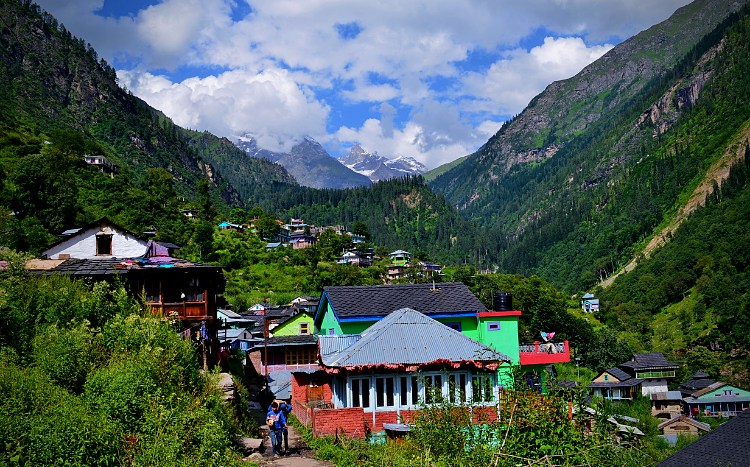 Step into the beautiful town of Bhuntar if you are looking for seclusion away from the maddening crowd in a tourist place like Himachal. The isolated town is located in the district of Kullu and thus it paves the pathway for both Kullu and Manali. Though you will not get anything special at this place, you will surely get peace and serenity amidst the beautiful nature, that's a promise. On your way to Bhuntar, the lush green surroundings and plenty of flora and fauna is a treat to witness. Also, Bhuntar is well-known for its majestic temples in a styled architecture!!
Best Time to Visit: September to March
Weather: Summer- 20°C to 30°C & Winter- 7°C to 20°C
Things to do: Basheshwar Mahadev Temple, Bijili Mahadev Temple, Himalayan National Park, and Adi Brahma Temple.
Distance from Delhi: 489 KM
BIR BILLING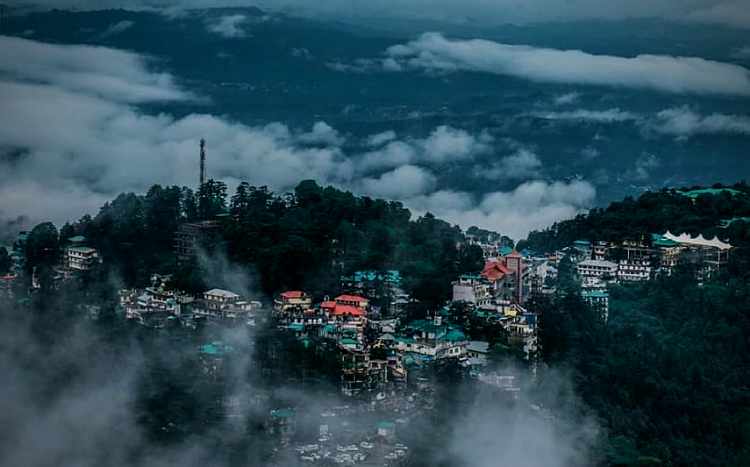 Located in Himachal Pradesh, Bir Billing is a small town that has gained immense popularity in the field of adventure. The best spot for Paragliding, it attracts a flock of foreign tourists rather than the domestic ones. As every place now is filled with the modern curses, Bir didn't fail to maintain its natural beauty and thus remain untamed and untouched. Apart from only being the adventurous place, Bir Billing is also a religious town that is known for its majestic temples, monasteries, learning centers, and the meditation centers!!
Best Time to Visit: April to June
Weather: Summer- 11°C to 25°C & Winter- 5°C to 15°C
Things to do: Paragliding, Hand Gliding, Buddhism monasteries, Bir Tea Gardens, Deer Park, etc.
Distance from Delhi: 517 KM
DALHOUSIE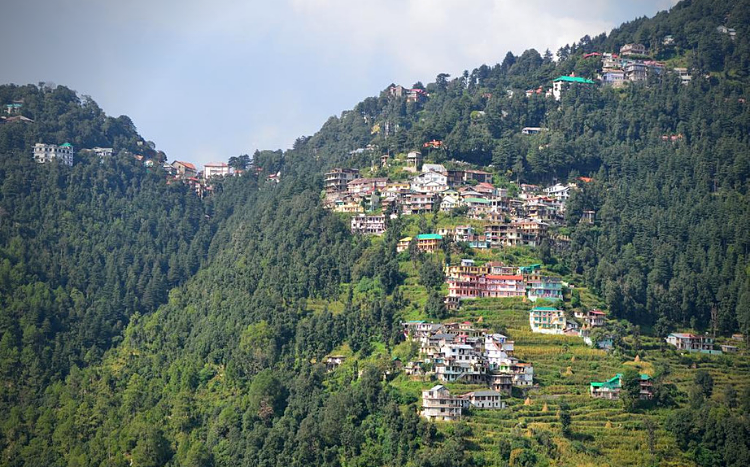 One of the most popular hill stations of Himachal Pradesh, Dalhousie is a quaint destination for all types of travelers. Be it adventure lover, nature lover, or just a leisure traveler, Dalhousie has something for everyone in its lap. Brimming with snow-clad mountains, beautiful waterfalls, pristine lakes, green forests, and numerous adventure sites, the hill station is known as the Snow paradise of India. If you love adventure, do not hesitate to partake in activities like trekking, river rafting, canoeing, kayaking, and camping!!
Best Time to Visit: March to June
Things to do: St. John's Church, Star Village, Dainkund Peak, Kalatop Wildlife Reserve, Panchpula, Satdhara Falls, etc.
Weather: Summer- 17°C to 24°C & Winter- 6°C to 11°C
Distance from Delhi: 560 KM
KASOL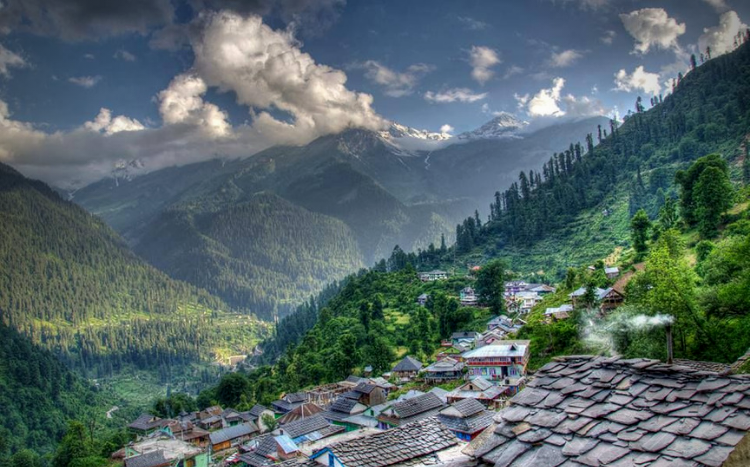 Known as the 'little Israel of India', the tiny hamlet called Kasol has located on the banks of river Parvati. Owing to its popularity in India, Kasol is a hub for the intrepid travelers, backpackers, and nature lovers. The town is full of wanderers and the hippies and preferred by them for the serenity and musical trances. The lush green landscapes, verdant valleys, majestic waterfalls, and the snow-capped mountains add to its reverberating beauty. Including treks to Kheerganga, Yanker Pass, Sar Pass, and Pin Parbati Pass, Backpackers love to trek in Kasol due to its beautiful surroundings and bizarre trails!!
Best Time to Visit: May to June
Things to do: Parvati River – perfect for lazing, white water rafting and trout fishing, Tosh (a village with treacherous roads, hippie culture and some stunning scenery), Malana (small, traditional village), Trekking and Climbing.
Weather: Summer- 13°C to 35°C & Winter- 3°C to 10°C
Distance from Delhi: 519 KM
KANGRA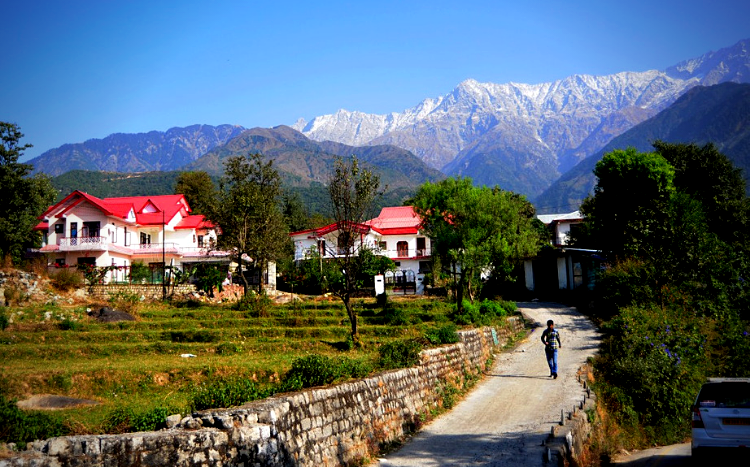 Referred to as the 'Land of Gods', Kangra is a picturesque town in Himachal offering the breathtaking views of nature. If you are someone who believes in spiritual healing and awakening the inner peace, coming to Kangra will turn out beneficial for you. Home to various religious temples, Kangra attracts a handsome crowd of the pilgrims. Try to indulge in Ayurveda massages, fitness centers, horse riding and swimming pools for a memorable trip. Rest assured, you're in for a visual and experiential treat!!
Best Time to Visit: September to June
Things to do: Brajeshwari Temple, Kangra Fort, Kareri Lak, Baijnath Temple, Kangra Art Museum, Jwala Devi Temple, Chamunda Devi Temple, and Pragpur Village.
Weather: Summer- 22°C to 35°C & Winter- 4°C to 8°C
Distance from Delhi: 455 KM
SANGLA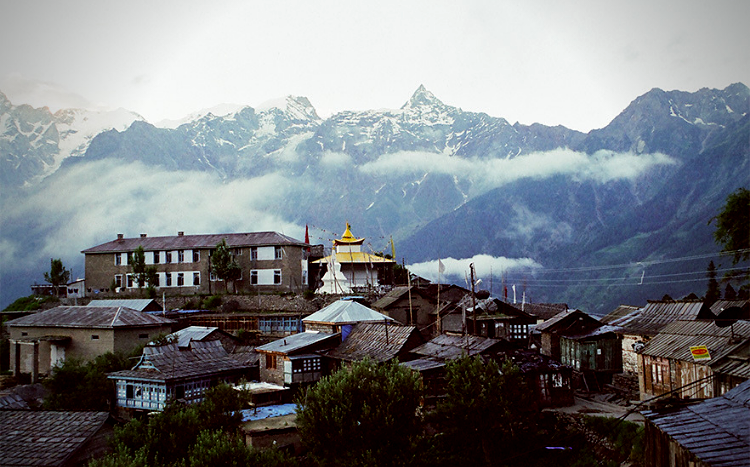 Bounded by the strapping mountain slopes and lush green forests, Sangla is a major town in the district of Kinnaur, Himachal Pradesh that makes a perfect getaway for the backpackers. Away from the maddening crowd of the city, Sangla valley is a treat to witness when you get bored from your monotonous life and want to experience the calm and rustic life. With scenic attractions, nature walks and trekking options, this town promises to enthrall you in every moment!!
Best Time to Visit: March to June
Things to do: Kamru Fort, Bering Nag Temple, Sangla Meadow, the Buddhist Monastery, Batseri Village, Chitkul Village, and the Tibetan Wood Carving Center.
Weather: Summer- 8°C to 30°C & Winter- 10°C to Minus 10°C
Distance from Delhi: 563 KM
KHAJJIAR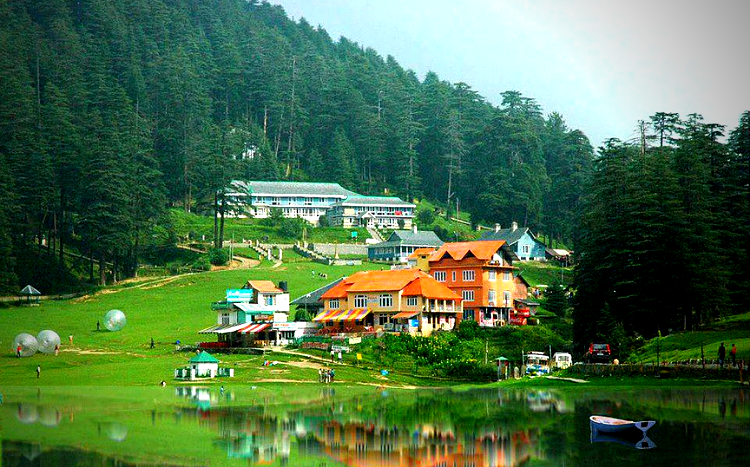 Have you ever wondered about experiencing Camping, Paragliding, Horse Riding, Zorbing and various adventure activities in one place? Well, that is Khajjiar for you. A small town in the district of Chamba, Khajjiar is an amalgamation of the wild in serenity. With pristine lakes, green forests, verdant meadows, snow-capped mountains, and exotic wildlife, the quaint town is most commonly known as the 'Mini Switzerland of India'. Another thing for which Khajjiar is famous is the Khaji Nag Temple (the concoction of Hindu and Muslim styles). If you are planning up an adventure tour, check-out the adventure activities in Khajjiar for an outdoor thrill!!
Best Time to Visit: May to June
Things to do: Kalatop Wildlife Sanctuary, Khajjiar Lake, Khajjiar Trek, Horse-riding, Paragliding, Zorbing, Golden Devi Temple, Lord Shiva Statue, and Tibetan Handicrafts Centre!!
Weather: Summer- 17°C to 23°C & Winter- 6°C to 11°C
Distance from Delhi: 571 KM
MANALI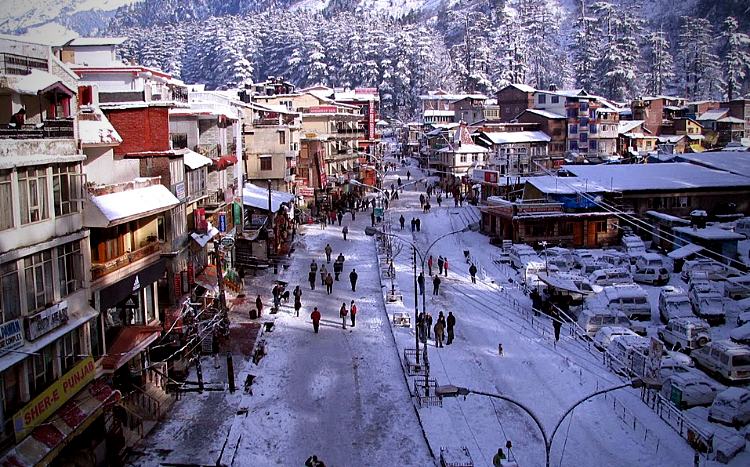 Think of Himachal, Think of Manali. Being the most visited hill station of Himachal Pradesh, Manali is situated at an altitude of 2,050 meters on the River Beas valley. Visiting Manali to step out from your hectic daily life is the best decision to make. Famous for the green surroundings, snow mountains, and a plethora of adventure activities, Manali should be on the list of every adventure freak and backpacker. A paradise for the Honeymoon Couples, Manali witness a gentle crowd of the newlyweds every year. Alternatively, the ancient temples and Tibetan monasteries beckon spiritual enthusiasts!!
Best Time to Visit: May to July and November to January
Things to do: Solang Valley, Rohtang Pass, Hadimba Temple, White Water Rafting, Trekking, Horse Riding, Zorbing, Vashisht Baths (temple with natural hot springs), Chandrakhani Pass, and Gayatri Temple
Weather: Summer- 12°C to 20°C & Winter- 3°C to 7°C
Distance from Delhi: 559 KM
MASHOBRA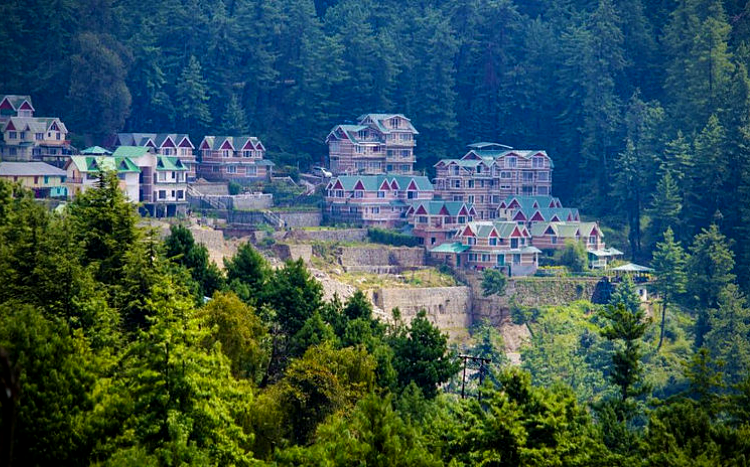 Take a leap from the regular hill stations and visit Mashobra to discover the whole new world sprinkled with deodar trees through and through. Tucked away at an altitude of 7700 feet, Mashobra is 13 kilometers away from Shimla, the capital of Himachal Pradesh. The little town is not so popular among the tourists but has great things in its lap. Mashobra is undoubtedly a lush green expanse in Himachal Pradesh that offers the adventure activities like camping, zip-lining, paragliding, and a thrilling walk in the jungle. Have the purest and liberating experience of your lifetime in Mashobra!!
Best Time to Visit: May to June
Things to do: Reserve Forest Sanctuary, Wild Flower Hall, Mahasu Devta Temple, Craignano, Tatta Pani River
Weather: Summer- 10°C to 20°C & Winter- 4°C to 9°C
Distance from Delhi: 352 KM
SHIMLA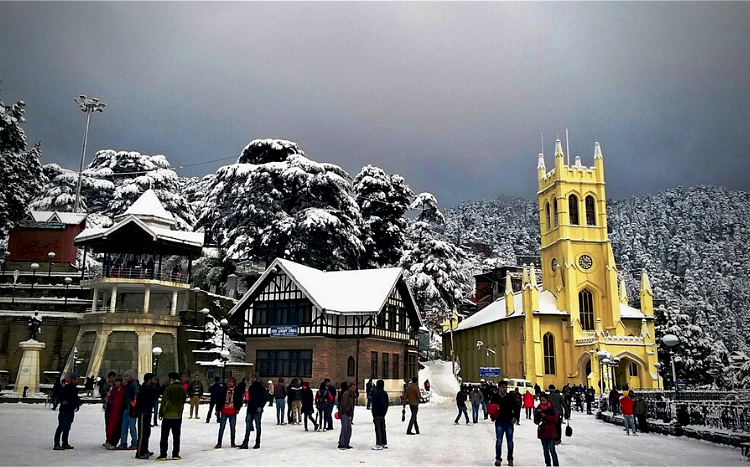 The Capital of Himachal Pradesh needs no introduction!! Full of lush green environs, scenic landscapes, snow-capped mountains, and beautiful surroundings, Shimla is the most popular hill station of all times attracting tourists in a great number every year. Shimla is rich in illustrating the colonial era with its best colonial architecture including the Viceroy Lodge, Town Hall, and others. In regard to the captivating beauty of Shimla, Britishers declared it as the 'Summer Capital of India'. Also, if you are looking for some adventure in serenity, you can go for hiking, trekking, camping, and other adventure activities in Shimla!!
Best Time to Visit: March to June and November to February
Things to do: Mall Road, The Ridge, Institute of Advanced Studies, Jakhoo Temple, Christ Church (the second oldest church in North India), and Toy Train to Kalka
Weather: Summer- 15°C to 20°C & Winter- 4°C to 9°C
Distance from Delhi: 342 KM
TIRTHAN VALLEY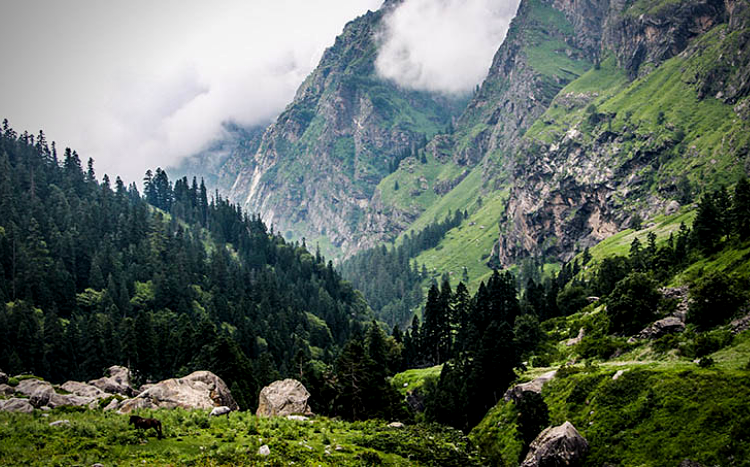 Lying 3 kilometers away from the Great Himalayan National Park, Tirthan Valley is the place to be if you want to test your limits beyond the sane level. Amid the surreal nature and mesmerizing surroundings, the valley is immensely beautiful. Tirthan valley is a perfect retreat for nature lovers and is full of surprises and excitement for those who seek solace and adventure both. Trekking, overnight camping, river crossing, night treks, mountain biking, kayaking, and archery are the best ways to relish the picturesque magnificence of the Tirthan Valley!!
Best Time to Visit: March to June and November to February
Things to do: Trout Fishing, Trekking, Serloskar Lake, Jibhi-Jalori Pass, Rock Climbing, etc.
Weather: Summer- 14°C to 20°C & Winter- 3°C to 8°C
Distance from Delhi: 495 KM