Delhi - The Capital City of India, is the most visited place in terms of tourism from people all over the country. Be it a leisure traveling or business one, Delhi offers a lot to its guests. Formerly called 'Indraprastha', the place has a high historical significance with various Forts, Monuments, and other ancient places. Showing a brief history of the past, the city offers a brilliant showcase of vibrant colors of past and modern world. The big skyscrapers and magnificent religious structures in Delhi have a lot to offer. It can be aptly said that religion, culture, history, and modernity come all together to define what Delhi means to the outside world and its people. Being the crowded tourist spot, the accommodation in Delhi is quite easy to get. Starting right from the budget hotels to luxury ones, the hotels and resorts in Delhi cater to all your needs at affordable prices.
Best Western Resort Country Club – Manesar
Located on Delhi-Jaipur Highway, Best Western Resort Country Club is sprawling in over 50 acres of land. Surrounded by green and yellow mustard fields, it offers a scenic view to the tourists, ones who need to get a drench in peace and tranquility. The resort has 120 Deluxe, Garden-facing Rooms that are equipped with all the amenities to provide a comfortable stay for the guests. It is only 45 minutes away from Delhi International Airport which makes the commuting easy for the travelers. Also, the resort prides itself for hosting some of the major events of the city right from Conferences, Business Meetings to other Corporate Events with state-of-art Conference/Banquet Halls.
Tree House Club and Spa – Bhiwadi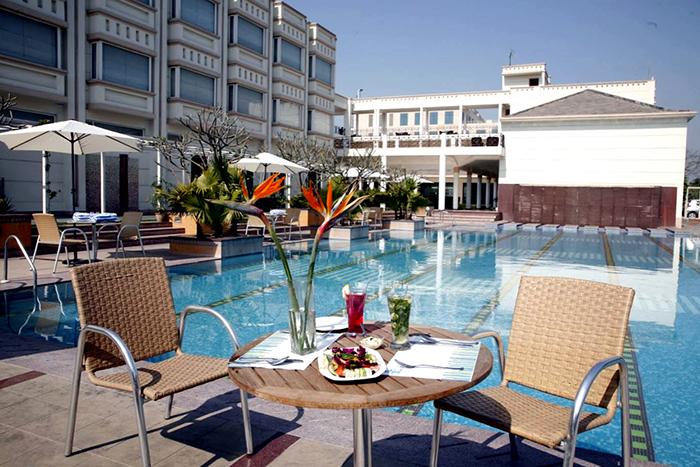 At a proximate distance from Delhi and Gurgaon, Tree House Club and Spa is located in Bhiwadi. Primarily known for its classic ambiance and luxury lifestyle, the resort offers a lot to its guests for a wonderful experience. 101 Premium Rooms including Presidential Suites offers comfortable accommodation with facilities like Swimming Pool, fully equipped Gymnasium, Spa with steam and sauna, and Squash court. Treehouse Hotel brags of hosting some of the Major Events of the city including Corporate and Social ones. This Hotel has 7 Conferencing Venues and Banquet Halls to choose from for organizing events like Conferences, Seminars, Weddings, and more. It is also the best place for day outing/picnic near Delhi, here you can enjoy lots of fun-filled activities.
Hans Resorts – Rewari
Hans Resorts in Rewari is one of the most popular resorts that is spread in a large landscape area. 65 Kilometers away from Delhi International Airport, it is located on Delhi-Jaipur highway which turns out to be a great sojourn for the travelers. With an inventory of 45 Luxury Rooms, the Resort offers elegant accommodation with a plethora of facilities and services. Also, the resort is available for organizing events like Conference, Birthday Parties, Wedding, Corporate Events, and Cocktail Parties. Swimming Pool, Banquets, Conference Room, Gym, Spa, Bar Restaurant, and Food Court are the major facilities of the resort. Moreover, the warm hospitality given by the experienced staff of the resort is purely authentic and helps the guests to experience the luxury better.
Park Ridge Resort – Rewari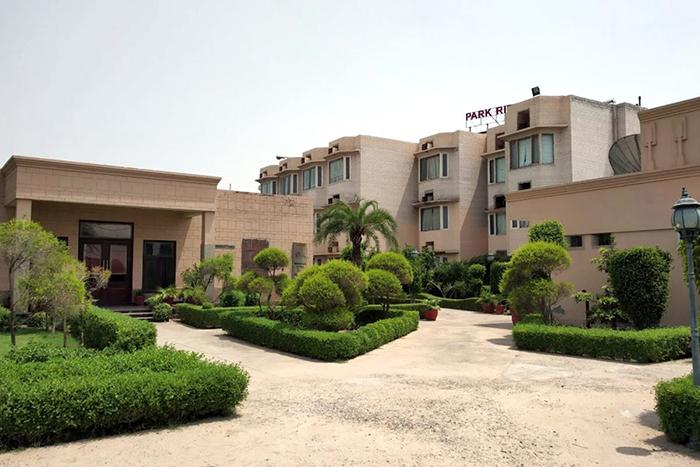 Park Ridge Resort in Rewari is situated at Delhi-Jaipur Highway and is known to be the luxurious resorts in the area of Rewari/Bawal. With an idea of making a difference in one's life, the resort does everything for the comfortability of the guests. Accommodations are provided in 47 deluxe/executive rooms, 3 Deluxe Suite Rooms that include access to briefing hall and 2 Family Suite Rooms that include access to the beautiful lobby area. Also, understanding the importance of a perfect execution of the guest's events, the resort organizes events under the guidance of the guests. Be it a Social Event or Corporate Event, the resort has Banquet Hall and a Conference Hall which can accommodate over 200 Guests. Moreover, the Resort provides all facilities; staff is very friendly and take care of all your needs.
Golden Tulip or Grand Hira – Neemrana
In a beautiful district of Alwar, Golden Tulip, Neemrana is an ideal resort for a perfect Weekend Getaway with your loved ones. Located on NH-8, Delhi-Jaipur Highway, the resort is a luxury living experience away from the hue and cry of the city. Accommodations in the resort are offered in 70 luxuriously furnished rooms with all the modern-day amenities. Oher facilities include Table Tennis, Badminton, Spa, Jacuzzi, Fitness & Aerobics Center, Mini-Golf Course, Billiards, and A Swimming Pool with Baby Pool. Guests can savor their favorite dishes at an in-house Multi-cuisine Restaurant- 'Rajwada' that serves some of the finger-licking dishes. Moreover, the resorts hold Banquet Hall and Conference Facilities to organize Social and Corporate Events.
The Fort Unchagaon – Garhmukteshwar
The Fort Unchagaon Hotel is one of the reputed hotels that is located in Garhmukhteswar, preserving the amusing and graceful living style of the 18th Century era. Beautifully designed in the classic White color, the hotel boasts an elegant ambiance with magnificent furnishings and décor. The hotel has 20 Heritage Double Rooms and 2 Family Suites that are aesthetically done up with attractive interiors. The place also offers services like Multi-Cuisine Restaurant, Conference Hall, Outdoor Games and pursuits like Boat Cruises, Horseback Riding, Bullock Cart Rides, Potter Wheel Experience and River Dolphin Sighting.
Tree House Cottages – Jaipur
Tree House Cottages is located in Jaipur, where nests are perched on the top of Keekar trees. Named after an exclusive Bird found in the area, the nests in the resort offers the panoramic views of the surroundings. Categorized as Deluxe Nest, Luxury Nest, and Private Suites, the Rooms accommodates the guests in well-designed and well-equipped space with all modern-day amenities like Hot/Cold Showers, Plasma LCD TVs, Satellite TV, Tea-Coffee Maker, Minibar, and Wi-fi Connection. It will give you a different experience to stay on nest perched on branches of trees with alluring views through the window and enjoy the songs of birds.